Welcome to Kent's Largest and Best Rose Grower
British Roses is the online shop for roses and hedging from Rumwood Nurseries & Garden Centre.

Rumwood Nurseries is a family run firm that specialises in the growing of roses and trees. Established in 1965 Rumwood Nurseries has now been providing the trade and public with top quality nursery stock for nearly 50 years. Our experienced workforce comprises some of the most skilled labour in horticulture.

We offer a friendly and reliable service supplying both trade and retail across the British Isles and into mainland Europe. When dealing with Rumwood Nurseries, either through this website or by visiting us, you are guaranteed that you will get the personal attention and service that you really want.
Mail Order Delivery Service for Roses and Hedging
We specialise in mail order deliveries - a service we have been operating for nearly 50 years. Mail order deliveries of Potted Roses are made throughout the year. Bare root rose plants and bare root hedging plants are delivered from November through to March, although can be ordered at any time. Ordering is simple - call us on 01622 861477 or use the WorldPay Secure Payments Service on this website.


---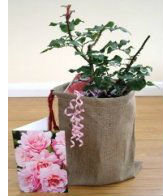 Rose Gift Collections
New from British Roses - our Gift Collection Rose Bushes are potted, presented in a ribbon-tied hessian bag and safely packed in a strong cardboard container to ensure that they arrive in pristine condition. Included in the price is a greetings card with your personal message. Also, each rose, which is a 4 litre pot, is supplied with an attractive coloured label with a picture and description of the rose.

Let someone celebrate that special day with a beautiful rose gift that gives lasting pleasure and enjoyment whether it be for a birthday, anniversary, wedding, retirement, house warming, Mother's Day, Father's Day, or just to say thank you.


A bouquet of roses can be quite expensive considering they will only last a week or so. A living rose bush will last for many years and give far more enjoyment.
---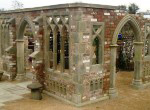 Step back in time and see our new 'folly'
New for March 2013 at our Rumwood Nurseries garden centre, and also at our Royal Mires Nursery, a garden showpiece and focal point like no other; a stunning folly that we'll use to showcase the best of our shrubs and plants. Come and visit us to see this amazing structure for yourself.

We'll soon set out a dedicated area of this site with more pictures and details on how you too can purchase one of these eye-catching features for your own garden or business.

---

Roses for Special Occasions
Ruby, Pearl, Golden or Silver Wedding Anniversary? Someone's Birthday, Wedding or Engagement? Congratulating someone? A Rose to remember a special person by? Why not buy a rose for that important occasion from our collection of Special Roses?
---

RHS Hampton Court Palace Flower Show 2013 - Our Gold Medal winning garden
Rumwood Nurseries and Outerspace Designs Ltd working together at RHS Hampton Court Palace Flower Show 2013 on a Gold Medal winning garden.

This garden portrays an apocalyptic scene, but from the devastation a spiralling glade of new growth emerges. Click here to find out more about what this award winning garden represents and for more pictures.
---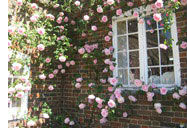 Roses for Difficult Areas
See our new section on roses that are suitable for growing in difficult areas. Whether you have a North facing wall or shady spot in your garden, we have a rose for you. We also have roses that can be grown as hedging and dense thorny barriers, which form an attractive yet effective boundary to your property.

Shown here is Mme Gregoire Staechelin growing in the fine Culpeper Garden at Leeds Castle in Kent, which is just minutes away from where we grow our roses at Rumwood Nurseries & Garden Centre .
---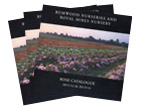 Rose Catalogue 2011/12 & 2013/14
Roses are such a diverse plant group that there is a rose to suit every taste. Our aim is to offer you a wide selection of great varieties to satisfy your every demand, whether that would be colour, bloom shape, function, scent, or nature of growth.

This website brings to you all the products included in our Rose Catalogue for 2011/12 & 2013/14. We hope you enjoy our selection. Click here to view the new editions to our catalogue.
---
Climbers




Vigorous climbing roses, diverse in growth and colour, some flowering in summer only, others flowering more than once in the same season, flowering in Summer - Autumn.
---
Climbing Patio




For use when one requires a climbing rose minus some of the associated vigour. The more compact growth gives a denser mass of floribunda type blooms.
---
English Roses




David Austin Roses that possess the original charm and high fragrance of traditional shrub roses. They are crossbred to also offer good bloom form and repeat flowering.
---
Floribunda




A cluster-flowered bush. Shrubs that usually bloom more than once in the same season - usually large sprays of flowers in Summer - Autumn. Unrivalled for providing a long-lasting bedding display.
---
Ground Cover




Ideal for difficult areas, banks, places that are difficult to mow, etc. These plants form a colourful ground cover 'mat' between 1ft and 2ft in height with slight scent.
---
Hybrid Tea




The ever popular Hybrid Tea grows as a large-flowered bush. Differs from the floribunda group in that its blooms are larger and less in number. The striking blooms tend to be a classic rose shape. They usually bloom more than once in the same season with large flowers borne in Summer - Autumn.
---
Patio & Miniature




These roses have limited growth and so can be successfully grown in restricted situations, for example, in pots indoors, rockeries, troughs, flower beds close to the house.
---
Ramblers




All strong growing with Floribunda type blooms. Ramblers are more rampant and pliable in growth than climbing roses.
---
Shrub Roses




This is a diverse group of roses. Most bloom more than once in the same season and are larger than bush roses, with flowers borne singly or in sprays in Summer and/or Autumn.
---
Standards




Gives that extra depth and third dimension. Stem 1m (3' 3") tall.
---
Half Standards




Just slightly lower than the full Standard. Stem 0.76m (2' 6") tall.
---
---
---
We are members of The Rose Growers Association, The Horticultural Trades Association and are a Registered Grower of the British Association of Rose Breeders.